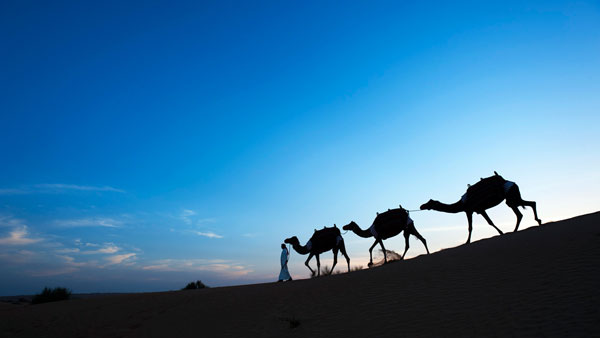 A weekend in Dubai – Part 2 — the Al Maha Desert Resort, the Dubai Desert Conservation Reserve and an antelope's quiet disdain. Excerpt below, and click here for the full article.
+++
The towering skyscrapers of Dubai disappear behind me in a haze. The air smells and tastes of sand, even as the taxi whisks past a new cricket field whose emerald turf is in shocking contrast to the dun surroundings. We have far to go, and we're flying over the asphalt now. Destination: the remote Dubai Desert Conservation Reserve(DDCR) and, therein, eco-luxe Al Maha, A Luxury Collection Desert Resort & Spa. I sink back into the plush taxi seat and remember growing up in drought-prone California. How much precious fresh water is required to keep a cricket pitch in the desert so dewy green? Indeed, Dubai, together with her sister United Arab Emirates, consume more water per capita than anywhere else on the planet—145 gallons (550 litres) per day. At least it's desalinized sea water, but the fossil fuel required to power the massive process generates huge amounts of greenhouse gasses. As Dr. Mohammad Dawoud, of the Abu Dhabi Environment Agency, put it in a recent CNN report, the UAE has "almost no regulation" for water or power use, "no minimum standards for water-consuming appliances … and very few energy requirements for buildings."
Maybe I don't fully appreciate the environmental challenges of powering a modern desert society. The realities are indeed stark, and at the same time I fear I'm still trapped in my (admittedly ridiculous) Western romanticism—like, why am I cossetted inside this sparklingly new Lexus sedan, not plodding along on a camel's back? In place of caravans of ill-tempered dromedaries slowly trekking the endless desert, we pass convoys of diesel trucks belching fumes and carrying building materials to seemingly endless construction sites of brand-new cities and gated communities jutting incongruously out onto the flat, arid plains.  
Click here for the full article at GreenTravelerGuides.com.